KINE-SIM, a balance and motor skills exercise device that incorporates entertainment technologies. It is primarily designed for rehabilitation and maintaining functional autonomy. The KINE-SIM is available to Suite Care and Rehabilitation services as well as senior residences in order to offer residents motivating exercises adapted to each person's abilities.  
The primary objective of KINE-SIM is to improve the quality of life and the physical condition of frail or elderly people. "For the past year, I've suffered from pain in my hip…I was always told there was nothing I could do, that it was just old age osteoarthritis […] I come regularly […] I think the exercises are good […] I'm really happy to see the machine here because it's a plus for us, it gives us a better quality of life, it's all there," says Eugenie Bouchard, Resident at the Ambiance residence, Groupe Maurice, Montreal.
Entertaining and varied exercises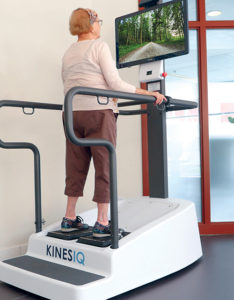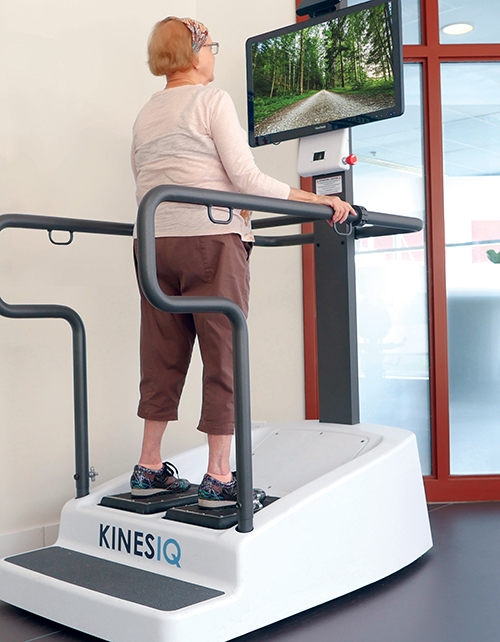 KINE-SIM uses simulation and virtual reality technology by incorporating a playful and interactive aspect. It is based on the simulation of real-life scenarios that users can customise according to their interests. "It helps me to stand upright […] to stand up straight, […] we can walk, we can ski […] it's a good machine," says Simon Descaries, a KINE-SIM user.
These scenarios are recreated by plates that faithfully reproduce the movements of each foot and are perfectly synchronised with multimedia content to ensure complete immersion. Read more