New technologies in the "Ageing Well" sector are spreading and the market is continuing to grow. As professionals, it is essential for you to adapt or diversify your services in order to effectively meet the growing demand from your customers. That's why at Telegrafik, we work with you on an ongoing basis to meet your expectations and ensure the quality and reliability of our services.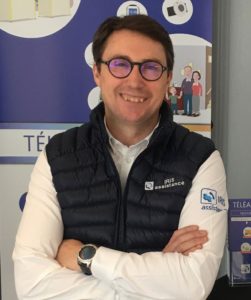 To take a closer look at this issue, we had the pleasure of talking to Arnaud Grimault, Director of Iris Assistance, a partner of Telegrafik specialising in personal protection.
Mr Grimault, your company Iris Assistance specialises in personal protection: how long have you been in business and what kind of people do you care for?

– I am the Director of Iris Assistance. I founded the company five years ago and we are based in Limoges. Our aim is to ensure the protection of vulnerable, dependent people, whether they are at home, in sheltered housing or in nursing homes. We offer them a range of alert and protection solutions, often innovative and adapted to their needs: disabilities, specific medical conditions or their environment.

Have you noticed a change in these issues since you started your business?
– I don't think that the needs of elderly or vulnerable people have really changed, it's just that there were not necessarily solutions before. My impression is that little has been done to bring existing innovations to older people, whether in home care or in nursing homes. The big companies in the sector, particularly in remote care, have not taken the lead in terms of differentiation or innovation.

In fact, I think that the market is in the process of developing. For 35 years throughout France, simple remote care has been the preferred solution: whether the person is elderly, suffering from a chronic illness, whether they have cognitive problems or not, they are only offered one type of protection – a simple trigger button. However, if we decide that the most important thing is the person, then we understand that this technology cannot respond to every situation. People with cognitive disorders will not be able to press the button on the day they need to. I see it every day: we need a range of solutions that adapt to the person's disability, vulnerability and dependency.

You have chosen to use new technologies, including Telegrafik solutions. The Libault report on old age cites the quality of care for the elderly and the development of elderly care professions as two key priorities. Based on your experience in the field, can these innovative solutions be an asset to meet these two challenges?
– Yes, but not in isolation: you have to use the various tools available to organise integration and coordination. At Iris Assistance, we have chosen to use Telegrafik technology including artificial intelligence (AI) in combination with home automation, precisely to overcome the problems of home care for dependent and vulnerable people. But we need to know how to offer secure technology that adapts to each situation and is comprehensively integrated into the person's environment, helping coordination between the various actors involved.

Let me give you an example. For an independent person, able to press a button if necessary, who lives alone but has family around to coordinate with, the classic remote care offer is suitable.

For people who are a little more vulnerable and isolated, we would suggest a wristband and a key safe, along with an agreement with the fire service. Finally, for people with the onset of cognitive disorders, we use Telegrafik's Otono-me solution: the sensors and artificial intelligence will simulate the person's lifestyle in order to identify any abnormal activity, suspected falls and discomfort.

This is the advantage of AI: it delivers weak signals, which provide a preventative aspect.

We detect, for example, that the elderly person has been to the toilet seven times during the night, something which has not happened in the last two years: we pass on the information to the family, who investigate with a doctor and thus identify the onset of cystitis which is treated quickly.

The range of technological solutions is vast! What advice would you give to a colleague looking to choose a provider like Telegrafik? What should be taken care of to ensure that the elderly people are satisfied?

– The key is to be able to adapt to people, by combining the analytical power of self-learning artificial intelligence and home automation. One day you have a couple, then one person, who will change bedrooms to go to the ground floor, for example. You have to choose a technology which, like in Telegrafik solutions, makes it possible to follow the person throughout their life by simply changing a few sensors.
Personally, I was looking to find solutions for dependent and vulnerable people, and to respond to the problems of cognitive disorders, so I carried out a technology watch at European level, we tested many solutions and met with various actors.
Telegrafik's artificial intelligence was the most revolutionary. We asked ourselves several questions specific to the algorithm: is it self-learning or not? What is its capacity to digest information? What is its speed and its regularity? Can it be taught, in addition to self-learning?
Based on all these elements and objectives, we chose Telegrafik.
We were also impressed that we were able to offer the Otono-me solution with a customised Iris Assistance app. As far as the families are concerned, they don't want to let go of this app because it makes them feel reassured. To them it is priceless.
In practice, in the field, are you satisfied with your choice?
– Yes absolutely, otherwise we wouldn't still be using it!
We have been working with Telegrafik for four years, we are satisfied, and we have a good basis for home care. Even for people who are classified as GIR1 or GIR2 (very dependent), who are very vulnerable and bedridden, we are able to coordinate with the private nurse, the home carer, etc., as part of palliative care support thanks to this solution. You get a level of quality that's even better than in a nursing home!

We will continue to improve the service we provide. It's important to always evolve to better protect people. We are going to push forwards on the weak signals, to operate them in a simple way and especially to communicate them, to coordinate this information with our local actors, with the people around the elderly person.

Do not hesitate to contact us to answer your questions and study with you your needs: :
05 82 95 50 52 ou contact@telegrafik.eu