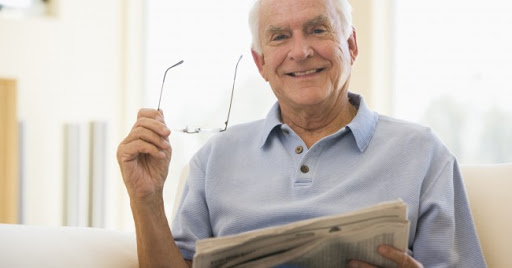 90% of elderly people want to grow old at home, and this is a major challenge, as homes are often no longer suitable for elderly people who are losing their independence.
Keeping older people at home is a key factor in well-being and ageing well. Being able to maintain one's lifestyle is an advantage for preserving mental health in elderly people, as Dr. Homehr of the Toulouse Teaching Hospital testifies: "As an EHPAD coordinating doctor, this is something I know very well. This morning I was doing an entry for a 92-year-old gentleman, who lived alone in his home, 6th floor with lift, and he had a stroke. His children were not exactly close by; it was getting complicated. He found himself institutionalised because of course he was afraid of walking and afraid of falling, and as soon as he came in, he said to me: "You know, Doctor, I was so happy at home! I've been living in retirement for 25 years, I had my little habits, I was comfortable at home. But I understood, I have to… " He decided, he said to himself "I have to". He's got all his wits about him, he used to be a weather engineer."
What is meant by maintenance at home?
The term "maintenance at home" means that an elderly person chooses to stay at home rather than go to a specialised institution such as a retirement home or an EHPAD, even though he or she is showing signs of frailty or dependency.
In order to live better at home, many solutions can be put in place, but it is also necessary to know how to adapt and equip the existing home. Indeed, the commonest reason why children put parents in a nursing home is falls.
Stairs in a poor state of repair, a carpet that slips, or a bath that is too high, all these can be obstacles that prevent elderly people from remaining comfortably in their homes.
However, there are possible adjustments that can be made to enable older people to remain independent in their own homes for as long as possible.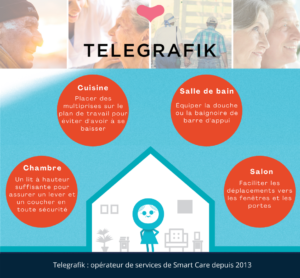 What is needed for maintenance at home?
The first step in maintaining a person at home is to assess the situation. We must be able to see the person's situation; is he/she robust? Or frail? Or dependent?  See the article
Even though falls are often a warning sign, you should not wait for the problem to occur before taking action and properly equipping your home!
Planning ahead ensures greater peace of mind and comfort in the home, allowing people to grow old well.
Here is a list of simple and inexpensive things to do:
In every room of the house
Make sure the lighting is bright enough!
Make it easier to move towards windows and doors if there are flowerpots or decorative elements. It is better to move or remove them rather than risk them causing a fall.
In the bathroom
Equip the shower or bath with a handrail, shower seat and non-slip mat.
In the kitchen
Place heavy items in the lower cabinets.
Avoid piling up dishes.
Place power strips on the work surface to avoid having to bend down.
In the bedroom
The bed should be high enough to ensure safe getting up and lying down.
The choice of mattress is important, as a mattress that is too soft makes it difficult to get up. In addition, firm mattresses prevent back problems!
For night-time wake-ups, it is preferable to have a bedside lamp next to the bed with a night table on which the elderly person can place essential items (water, glasses, telephone). The ideal solution is a night-light with accessible switches or automatic detection of movement.
Solutions such as light track, and many others, are offered by Telegrafik. Discover our connected solutions on the website: https://www.telegrafik.fr/
Do not hesitate to contact us to answer your questions and study with you your needs:
05 82 95 50 52 ou contact@telegrafik.eu