Ageing more independently with Telegrafik
Article published on 2 December 2018, Author: Jean-Luc Martinez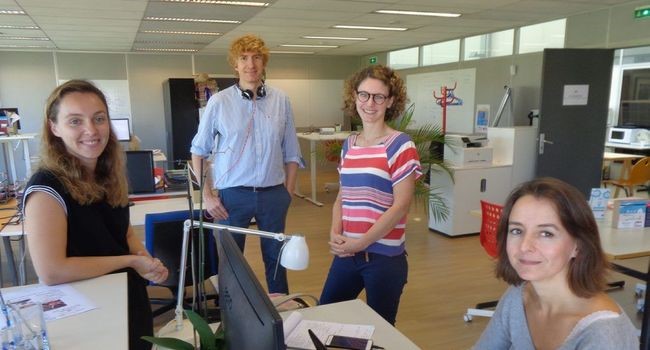 Some members of the successful Telegrafik team around CEO Carole Zisa-Garat./ Photo DDM.
Having already won the BPI France Digital Innovation Contest in 2017, the Colomiers-based start-up Telegrafik has just received the Futurapolis Le Point Contest's Connected Objects Award. This distinction rewards a recent but convincing solution for independence among the elderly.
"Our goal is to postpone moving into a retirement home for 12 to 18 months," says Carole Zisa-Garat, CEO of the young company that employs 15 people at its Semidias premises at Perget and in its Parisian office. "Once people are in a routine, we watch over them in the event of a fall or a change in behaviour."
Thanks to the Otono-me remote assistance service, the start-up uses artificial intelligence to serve human well-being. A caring attentiveness that detects anomalies and alerts the elderly person's relatives or the emergency services if necessary. Sensors installed in the rooms of the elderly person's house alert an operator, in a monitoring centre 24/7. Thanks to an intercom, a verbal exchange can even take place without the person being able to reach a telephone.
[…]
Read the full article here