Telegrafik becomes the exclusive distributor of KINE-SIM on the French market
Telegrafik and Kinesiq announce an exclusive agreement for the distribution of KINE-SIM on the French market by Telegrafik, an innovative balance and motor exercise device.
Telegrafik is a French company specialised in Smart Care, particularly known for its connected solutions for seniors. KINESIQ is a Canadian company specialising in innovative physical and neurological rehabilitation equipment.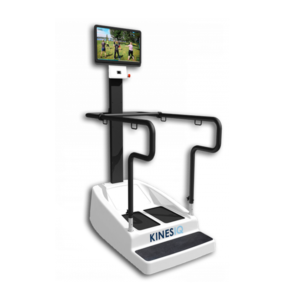 The KINÉ-SIM, KINESIQ's flagship product, will exclusively appear on the Telegrafik stand at the Salon AGE3 to be held in Paris, this Thursday, February 6th. Visitors will be able to test it there!
Already approved across the Atlantic: the KINE-SIM has notably been adopted by the leader in senior residences in the United States, and is now available on the French market thanks to Telegrafik.
Present on three continents,  KINE-SIM from KINESIQ is the best all-in-one exercise device for rehabilitation and maintenance of functional autonomy. It improves the quality of life and the physical condition of vulnerable people through a playful and therefore motivating approach . With its innovative technology, it is also the only device combining two motorised force plates that can move the user in synchronisation with a multitude of multimedia scenarios, working on balance, motorskills, orthopaedics and cognitive abilities all at the same time.
Do not hesitate to contact our team to discover KINE-SIM !